18 Jul

Joomla Modules Insight

Joomla Modules display content and media around the main content of the website. Joomla installation is followed with 20 module types. If you want more 3rd party modules, then visit the Joomla! Extensions Directory.

We will see how to reach the Joomla Modules section and add a module.

Login to the Joomla website as an admin and reach the Control Panel. Modules are part of Extensions in Joomla. Go to Extensions > Modules,

The section is visible wherein all the modules are listed. The enabled modules can be seen with a search tool, which helps in finding the correct module.
The search tool includes searching the perfect module on the following basis: Status, Position, Type, Page, Access and Language.

In the same section all the modules are visible under the modules section and published. Some examples include Search, Main Menu, Breadcrumbs, Popular Tags, etc.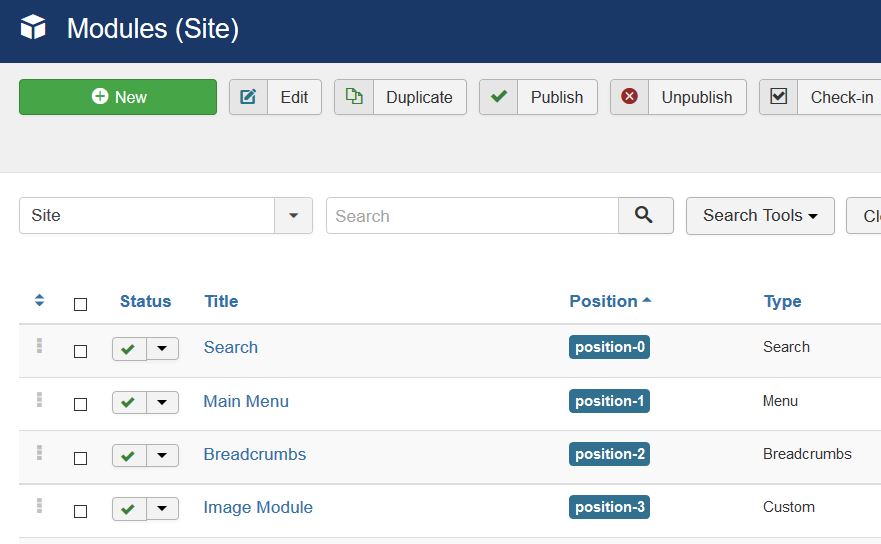 The Joomla Modules Toolbar options for the modules section are quite important and let's see what they mean. It is visible on top left of the section,
New: The editing screen opens and for creating a new module the New button is used.
Edit: The editing screen opens for the selected module.
Duplicate: Duplicate and make a copy of the selected module
Publish: Publish the module so the visitors can view its functionality on the website.
Unpublish: Unpublish the selected modules for the visitors of the website.
Check-In: Checks-in the module. Works with multiple selected modules also.
Trash: The status of the selected modules change to trashed. Recover the trashed modules by selecting "Trashed" in the Select Status filter. After selecting, change the status of the modules to Published or Unpublished.
Options: Options window opens where settings can be edited.
Help. Opens the help screen.
In the next lesson, we will learn how to add a new module to our Joomla website.