18 Jul

Joomla Metadata Settings

Metadata describes details of the article in short. It makes it easy to work with a particular data. Joomla Metadata Settings allow the admin to set the site Meta Description, Meta Keywords, allowing the indexing of the site, author meta tag, content rights, etc.

To reach the Joomla Metadata Settings, login to the website as an admin and reach the Joomla Control Panel. Now, under System menu, go to Global Configuration

Click the Site tab now and now the Metadata Settings are visible.
Here, set the meta description, robots, site meta keywords, author meta tag, etc.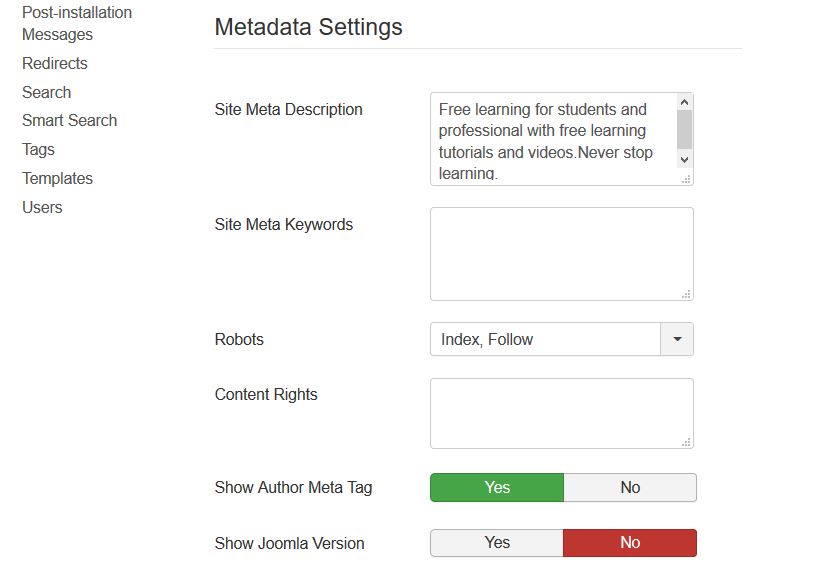 Now, here are the fields you need to set for the Joomla Metadata Settings,
Site Meta Description: Description of the website, which will be used by search engines. A maximum of 20 words or 160 characters is optimal.
Site Meta Keywords: The keywords and phrases best describing your website. Separate them with a comma.
Robots: Select from the following for Robot instructions, which helps you in indexing your site on search engines: Index, Follow/No index, follow/Index, No follow/No index, no follow.
Content Rights: Describe other people's right to use this content.
Show Author Meta Tag: The author meta tag when viewing articles.  Us one of the following values: Yes or Noe.
Show Joomla! Version: The Joomla! version number in the generator meta tag. Use one of the following values: Yes or No.