13 Jul

Introduction To Drupal

Drupal is a free and open source CMS, introduced in the year 2001. Its current version is Drupal 8.3.2. With Drupal, you can organize, manage and publish your content. Here, under Drupal introduction, we'll be learning about the features, advantages and disadvantages of Drupal.
Built on PHP based environment.
Governed by GNU i.e. General Public Licence
Drupal is a Content Management System (CMS). CMS is software that helps in editing, publishing and modifying the content of the website.
Here's a screenshot from the official Drupal website,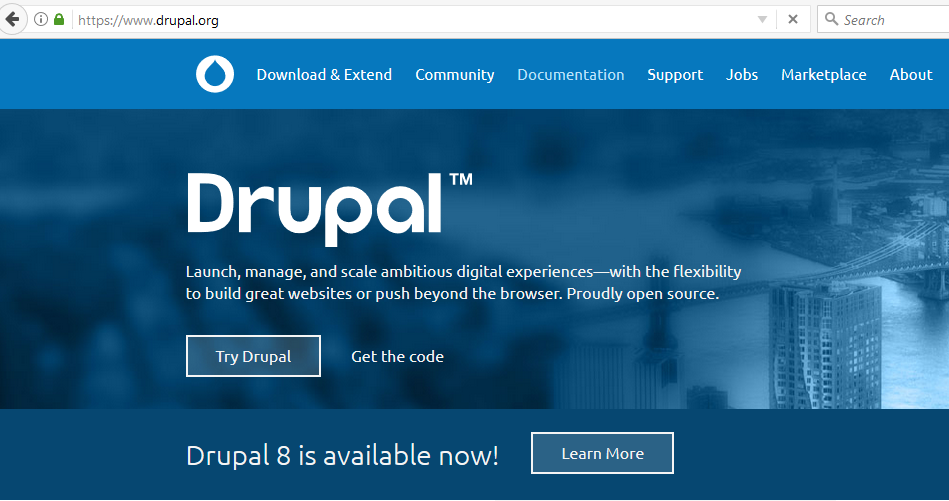 Here, under introduction to Drupal, we'll be learning about the features, advantages and disadvantages of Drupal.
Features of Drupal
Let's start Drupal Introduction, with the features,
Content types: Different content types such as blogs, articles, basic pages, etc.
Themes: Add new themes to your website, with Drupal. More than 1600 themes and modules are available for Drupal users.
Blocks and Regions: Blocks are the boxes of content (such as "User Login" or "Who's online") that can be displayed in regions (such as footer or sidebar) on your page.
Modules: A Drupal module is a collection of files containing some functionality and is written in PHP. Because the module code executes within the context of the site, it can use all the functions and access all variables and structures of Drupal core.
Advantages of Drupal
Here, we will learn about the advantages of Drupal.
Drupal is an Open Source CMS.
Add multiple language easily with Drupal CMS.
Easy to manage.
Easily create an E-Commerce website with Druopal, using Drupal E-Commerce.
Customize the Drupal website and give it a layout like you always wanted.
User and User Roles- Adding new user, user roles and assigning permissions to them is quite easy.
Drupal community is composed of more than one million members. On the Drupal homepage, there's documentation, well developed discussion board, chat, mailing list, etc. You can find plenty of information.
Disadvantages of Drupal
Here, we will learn why Drupal is difficult to use and considered only for complex websites.
Learning curve is difficult and Drupal is considered more complicated than WordPress.
Searching the Drupal module directory finds many that are incomplete abandoned projects and do not work at all, only work for an outdated version due to lack of backward compatibility
Drupal does not commit backward compatibility across major revisions. Drupal isn't compatible with a lot of older modules. Modules if not updated, may not work with the newer version of Drupal.