13 Jul

Update WordPress Plugins

Here, we will learn how to update WordPress Plugins. Update is quite important, since it help in fixing bugs and ensures the compatibility of WordPress Plugin with the Theme. A new update of WordPress Plugin brings new features and bug fixes. So, always keep plugins updated, to avoid them being vulnerable.

When you install WordPress, you get its current version. But, after some months every CMS like WordPress, Drupal, Joomla, etc gets an update with bug fixes and introduction of new features. With that, also expect frequent update of plugins by the plugin developer.

Whenever there's an update available, administrator will get a notification on the Dashboard itself. Also, the update information is visible under the plugins directory, after login.

Here, we will see how to update a WordPress Plugin.

Login to the website as an administrator and if you can see the following on the admin panel dashboard, then it means your WordPress plugins needs an update,

Above you can a number is visible, it means 8 plugins need to be update. Through this you can easily get to know when your plugins need an update.
Now, click Plugins to reach the plugins section. After reaching, the UI shows the plugins update required. We have 8 plugins to be updated and below you can see one of them,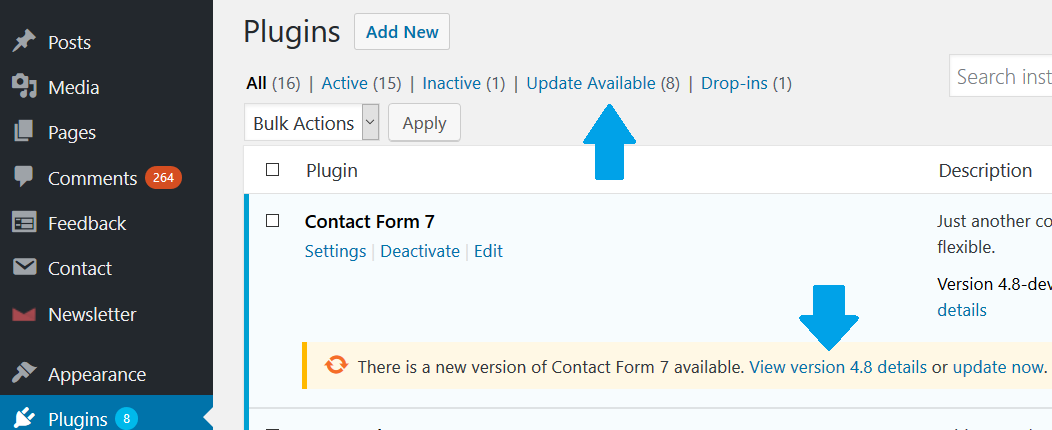 Click Update Now and now you can see the plugin is updating. It will take some seconds/ minutes to update the plugin, depending on your network and server speed.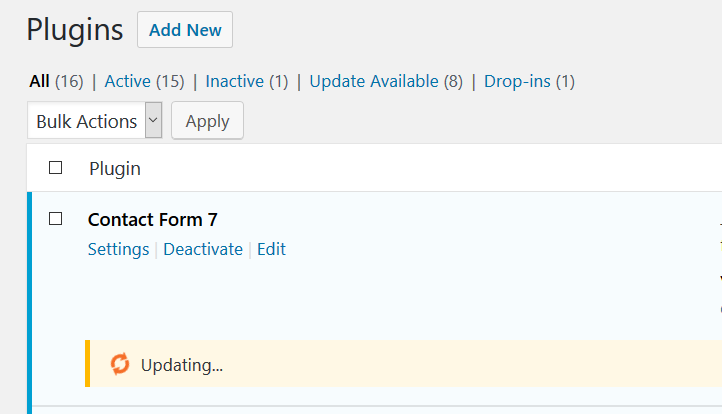 WordPress Plugin updated successfully,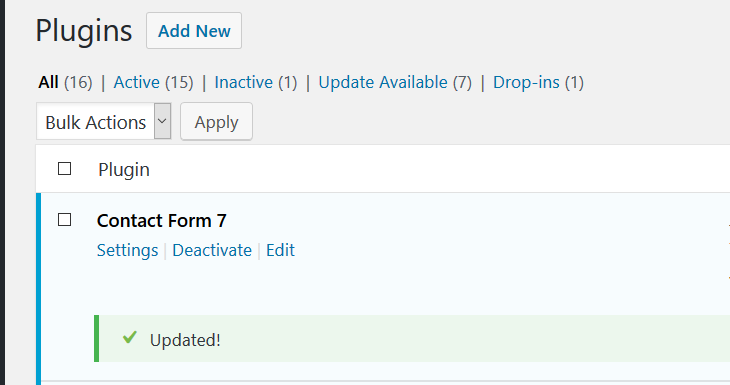 Now in the same way install the remaining 7 plugins mentioned as Update Available(7) above. On clicking, you will be redirected to a section where all the plugins will be visible that needs an update.
If you want to update multiple plugins at a time, then select all of these plugins and select Update as in the following screenshot,

In the same way, update WordPress Plugins with ease.