13 Jul

Moderate WordPress Comments

Comments are discussion on your content which can easily created engagement and bring back users to the website. While adding a post, you can easily enable comments. The administrator can easily moderate WordPress comments.

With WordPress, a separate section is provided on the dashboard itself to manage comments. Approve and unapproved comments from here, and mark unwanted comments as spam and move it to trash. Let's see how to reach the comments section,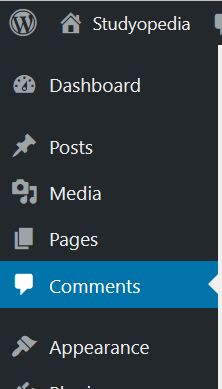 The comments section is now visible and a single comment is visible,
Above you can some options such as All, Pending, Approved, etc are visible. This is for approval and other action you can take on the comments. Here are the options,
All– All the comments would be visible,
Pending– Comments are pending; it means no action have been taken.
Approved– Approved comments
Spam– Comments are spam.
Trash– Comments are removed and are now in trash. You can empty such comments from trash too.
Also, hovering over comments gives you some other exciting options such as,

Approve/ Unapprove– Approve or unapproved comments.
Reply– Reply to the comments as an admin.
Quick Edit– Quick edit do not provide all edit options, but some important ones.
Edit– Edit allows admin to edit comments.
Spam– Move the comment to spam section
Trash– Move the comment to trash section
Using the above options, being the administrator of the website, easily manage WordPress comments.
Under the UI, you can also see Bulk options as well as Filter options; these are separate options to ease your work with multiple comments. Let's say you need to move multiple comments to trash on one go, and then select the comments are from Bulk Actions, click Move to Trash.
With Bulk options, easily approve or unapprove multiple comments and save your time.
With Filter options, you can filter comments on the basis of the following comments types: comments and pings.