23 Sep

NetBeans IDE Start Page

Let's learn about the sections under the first page of NetBeans IDE. When you will open the IDE for the first time, the NetBeans IDE Start page will be visible. We will also learn here how to disable the viewing of the first page and reach our project whenever we open NetBeans IDE.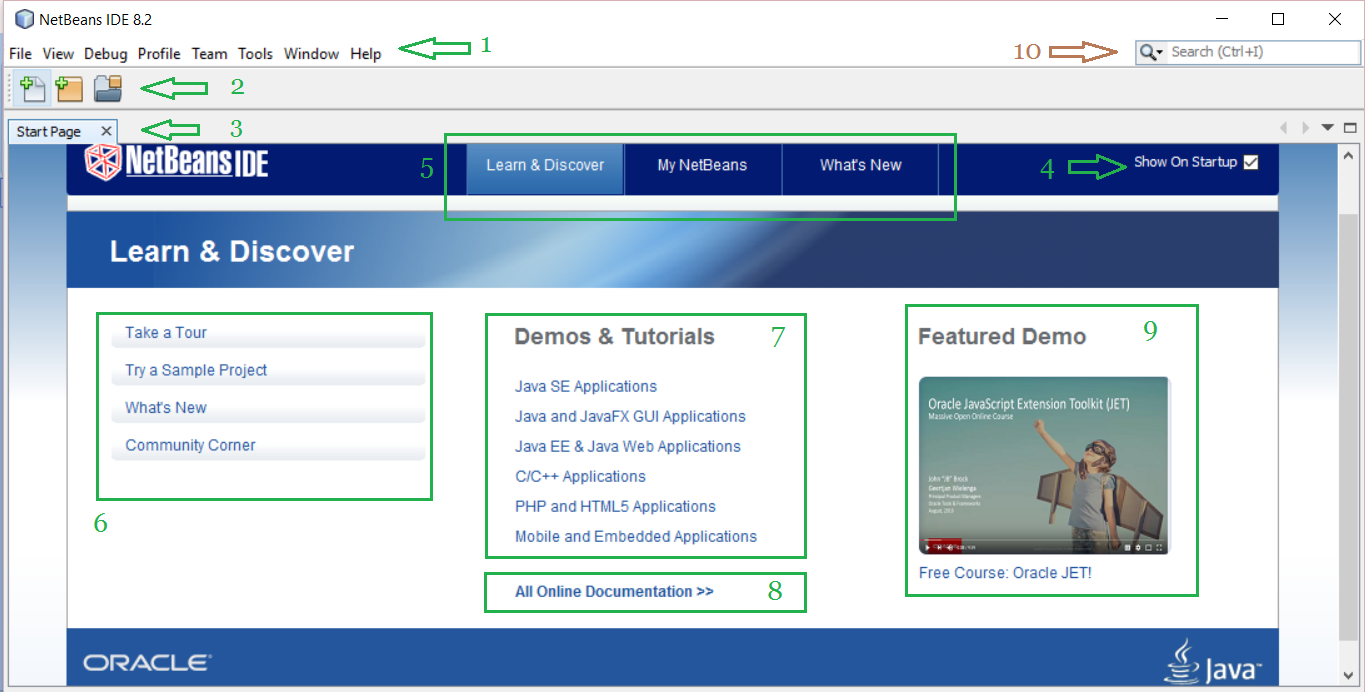 The startup page shows the following options:
Section 1: Menus
The NetBeans IDE is like the menus under other IDE, i.e. it provides quick options to explore the IDE. Add a new project with the File menu, add sections to the IDE with the View menu, configure window with the Windows menu, etc.
Section 2: Toolbar
Toolbar is a row(s) of boxes, which you can find on the top of the IDE, just after the menus. You can add a new project, save the project, etc, without searching the sub-menus under the menu. Also add more options under Toolbar to ease your work.
Section 3: Start Page
The start page is the first page, which you will get when you will launch the NetBeans IDE for the first time. It will be visible always if you won't uncheck under the Show on Startup option. The startup page has a tour of the NetBeans IDE, sample project, demos, tutorials, etc.
Section 4: Show on Startup
If you want to show the startup page every time when the NetBeans IDE launch, then a separate checkbox is available for it. The startup page has a tour of the NetBeans IDE, sample project, demos, tutorials, etc.
Section 5: Options
This section provides Learn & Discover menu to access resources; My Netbeans option where you can set your startup page options. Also check the new features and news about NetBeans under the What's new section.
Section 6: Resources
Here, official NetBeans resources like sample project, demo tour, etc is provided here for NetBeans beginners.
Section 7: Demos and Tutorials (Resources)
The demo and tutorials for NetBeans IDE is visible here.
Section 8: Online Documentation
Key section for beginners provided on the startup page itself; online documentation to learn and practically work with NetBeans IDE.
Section 9: Featured Demo
The featured demo i.e. a free course can be seen here.
Section 10: Search Box
The search box is wherein you can search about NetBeans IDE concept, The search results will take you to resources, demos, sample projects, documentation, etc.
In this lesson we learned about the options under NetBeans IDE Start Page.